OP/ED: Smoother Sailing
By Jennifer Carpenter
Consistent Regulations Critical to Maritime Commerce, American Prosperity.

"The ease of moving people and cargo on America's waterways is a competitive advantage and wellspring for economic prosperity and national security," states the U.S. Coast Guard's Maritime Commerce Strategic Outlook, released last fall by ADM Karl Schultz, Commandant. The owners and mariners of the vessels that ply our nation's waterways, transporting the commodities that power the American economy, are a vital component of that prosperity and security. To maintain the safety, efficiency, and security of this vital commerce – indeed, to make maritime commerce possible at all – vessel owners and mariners depend on a nationally consistent regulatory framework, not a patchwork of requirements that vary from state to state.
Enactment of the Vessel Incidental Discharge Act (VIDA) last year was a major milestone, replacing an unsustainable patchwork of federal and state vessel discharge regulations with a federally-centered, balanced and environmentally stringent regulatory framework. At a time when partisanship and brinkmanship in Washington, DC are as intense as they've ever been, VIDA garnered bipartisan support and ultimately became law last December. This happened because Members of Congress on both sides of the aisle understood a commonsense, fundamental truth about the healthy functioning of the American economy: that a nationally consistent regulatory system is essential to interstate commerce.
More than 200 years ago, the Framers had the foresight to acknowledge this reality by embedding in the Constitution the principle that rules governing interstate commerce lie within the exclusive purview of the federal government, precisely to avoid the imposition of overlapping or conflicting state regulations that could cripple the free movement of commerce throughout the United States. This principle is especially important in the maritime domain, where a patchwork of state regulations would impede the movement of 760 million tons of economically critical cargo transported annually by tugboats, towboats and barges, and vastly complicate compliance for mariners, subjecting them to civil and even criminal penalties for violations.
The need for regulatory consistency is common across all modes of transportation, and across many kinds of economic activity. We don't require or expect planes or trains to change out parts to meet varying safety or environmental standards when moving across state lines; and the U.S. Department of Transportation, citing the detrimental impact on interstate commerce, recently acted to preempt the State of California's efforts to regulate meal and rest break rules for truck drivers, notably stating that: "[California's law is] incompatible with Federal regulations and causes a disruption in interstate commerce. In addition, the confusing and conflicting requirements are overly burdensome for drivers and reduce productivity, increasing costs for consumers." Within the past year, the federal government has also filed lawsuits and undertaken regulatory action to assert federal preemption over state activity in the areas of student loan servicing, transfers of federal land, net neutrality, and vehicle fuel economy.
Yet, while enactment of VIDA and federal intervention to preempt state regulation that obstructs the flow of interstate commerce are encouraging developments, we continue to see states like Massachusetts, Maine, New York and Washington attempt to usurp federal authority over maritime navigation. Such efforts not only violate the Constitution's interstate commerce clause, but create a balkanized regulatory environment that, ironically, undermines the very environmental and safety objectives they hope to advance. When vessel owners cannot be certain that on-board technology will be in compliance with environmental or safety regulations from one state to the next, they are rationally less inclined to invest in new equipment that will make vessel operations safer and greener, for lack of regulatory certainty.
There is a better way to ensure that maritime commerce continues to drive American prosperity, and still pursue and safeguard other key priorities like protecting the marine environment. Thoughtfully crafted federal laws such as VIDA and the Oil Pollution Act of 1990, which provide a consistent national regulatory framework with appropriate roles for the states, are essential. It is also critical that the Coast Guard, as our nation's maritime governance force, fulfill its responsibility to facilitate safe, efficient, environmentally sound maritime commerce through effective implementation of the laws and, when necessary, vigorous defense of federal authority.
A thriving American economy depends on thriving maritime commerce, but both are at risk when states impose a maze of restrictions on vessel operation. Federally-centered, nationally consistent standards advance interstate commerce, better protect the environment, and hold true to the Constitutional order on which national prosperity depends.
Jennifer A. Carpenter is Executive Vice President and Chief Operating Officer of The American Waterways Operators.
This article first appeared in the March print edition of MarineNews magazine.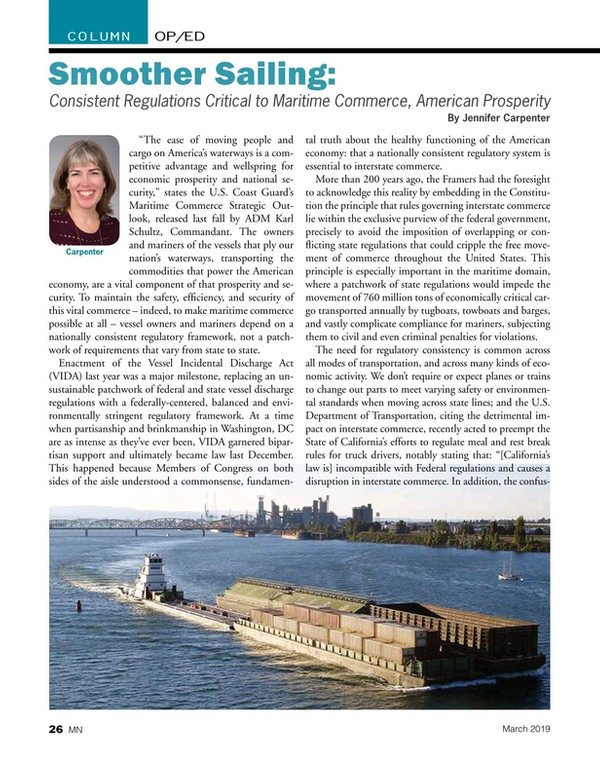 Read OP/ED: Smoother Sailing in Pdf, Flash or Html5 edition of March 2019 Marine News
Other stories from March 2019 issue
Content