MTR100 '13 MacArtney Underwater Technology Group
Marine Technology Reporter
MacArtney A/S (Headquarters)
Gl. Guldagervej 48, DK-6710 Esbjerg V

Tel: +45 7613 2000
Email: info@macartney.com

Group Managing Director/CEO: Niels Erik Hedeager
Sales & Marketing Director: Marco MacArtney
Sales mgr. - Connectors & Cables; Kurt Lund
Sales mgr. - Ocean Science: Hans-Jørgen Hansen
Sales mgr. - Oil & Gas: Mikkel Juul
Sales mgr. - Renewable Energy: Jens Henrik Gadeberg
Sales mgr. - Launch & Recovery: Klaus Brix
Sales mgr. - Global Rep Network: Steen Frejo
Employees: 260

The Company
The MacArtney Underwater Technology Group is a global supplier of underwater technology specializing in design, manufacture, sales and service of a wide range of systems to offshore operators, surveyors, the renewable energy sector, ocean sciences and navies across the world. MacArtney's systems and components are backed by an international network of subsidiaries and representatives, providing local access to global service.
MacArtney has been supplying products and engineering solutions for more than 35 years and is a privately owned corporation with group headquarters in Esbjerg on the west coast of Denmark. From its head office, it has been providing logistical, technical, financial and marketing support to all of the companies within the group since 1978.

The Tech
The MacArtney Group supplies and services a wide range of integrated systems and products designed, developed and manufactured by MacArtney. It is also trusted representatives of leading manufacturers of underwater products.
MacArtney supply includes underwater connector (SubConn, OptoLink and Mac API) and cable systems, advanced NEXUS fiber optic telemetry systems, electric CORMAC and MERMAC launch and recovery systems with active heave compensation winches for ROV systems. Its range of fast and precise remotely operated towed vehicles (ROTV) includes the MacArtney FOCUS-2 and TRIAXUS vehicles. Moreover, MacArtney supplies a versatile range of LUXUS underwater cameras, lights and media controllers.
System design and integration by qualified, experienced engineers is an important part of the MacArtney portfolio. Combined with a wide range of products and systems, MacArtney can offer turnkey solutions designed specifically for requirements and installed ready for use wherever needed.
MacArtney holds more than 35 years of experience in underwater technology solutions and has specialist knowledge that is essential for providing reliable advice and quality technologies and products, and MacArtney systems and products are backed by 24-hour support.

The Testing
MacArtney has a network of testing facilities available at our workshops in Europe and in the U.S. Our in-house facilities include large full ocean depth computer controlled pressure test vessels, an 8x3x3 m test tank and a cable tensioning rig. Some of our sites offer portable and mobile testing facilities, performing a range of tests on site.
All testing procedures are documented and we also work closely with external companies and institutes that specialize in such disciplines as hydrodynamics, corrosion and cable dynamics.

Associated Companies

Norway
MacArtney Norge AS
Fabrikkveien 34, 4033 Stavanger
Tel: +47 5195 1800
mac-no@macartney.com
Mats Ekström, Managing Director

United Kingdom
MacArtney UK Ltd.
Howemoss Avenue, Kirkhill Industrial Estate
Dyce, Aberdeen AB21 0GP
Tel: +44 (0) 1224 358 500
mac-uk@macartney.com
David Buchan, Managing Director

France
EurOceanique S.A.
Avenue Olivier PERROY, Les Portes de Rousset - Bât. E, F-13790 ROUSSET
Tel: +33 (0) 442 394 985
mac-fr@macartney.com
David Mazzochi, Managing Director

Netherlands
MacArtney Benelux BV
Mandenmakerstraat 188, 3194 DG Hoogvliet
Rotterdam
Tel: +31 10 2041166
mac-nl@macartney.com
Ron Voerman, Managing Director

Germany
MBT GmbH
Meerestechnisches Büro Turla
Wischhofstrasse 1-3, Geb. 11, D-24148 Kiel
Tel: +49 (0) 431 535500 73
mac-de@macartney.com
Torsten Turla, Managing Director

USA
MacArtney Inc. - Gulf of Mexico Operations
2901 West Sam Houston Parkway North
Ste D-260
Houston, TX 77043
Tel: +1 713 266 7575
mac-usa@macartney.com
Lars F. Hansen, President


USA
MacArtney Inc. - Northeast Operations
575 Washington Street
Pembroke, MA 02359
Tel: +1 781 829 4440
mac-us@macartney.com

USA
MacArtney Inc. - West Coast Operations
Bluffs Building, 16870
West Bernardo Drive, Suite 400
San Diego, CA 92127
Tel: +1 858 674 6605
mac-usa@macartney.com

Canada
MacArtney Inc. - Pacific NW Operations
1006 Ridgeway Place, Victoria, B.C. V8X3C5
Tel: +1 250 744 0550
mac-usa@macartney.com

MacArtney Middle East
Rania Gardens
Villa 13, Gate 50
Road 601, Area 1006
Hamela
Kingdom of Bahrain
Tel: + 973 39023234
mac-me@macartney.com

MacArtney Singapore Pte. Ltd.
30 Loyang Way #07-10
Singapore, 508769
Singapore
Tel: +65 65424500
mac-sg@macartney.com

Oceania
MacArtney Australia Pty. Ltd.
5/177 Bannister Rd
6155 Canning Vale
Perth
Australia
Tel: +61 (0) 862 58 5670
mac-au@macartney.com



(As published in the July/August 2013 edition of Marine Technologies - www.seadiscovery.com)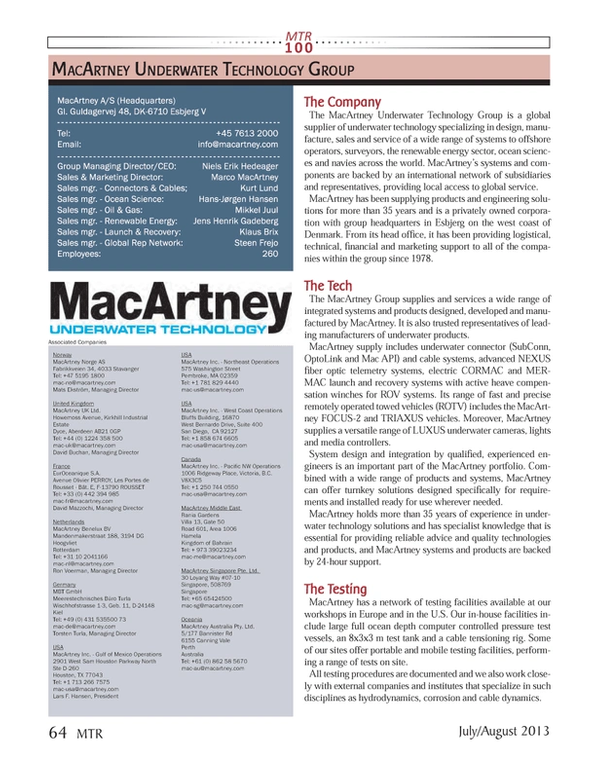 Read MTR100 '13 MacArtney Underwater Technology Group in Pdf, Flash or Html5 edition of July 2013 Marine Technology
Other stories from July 2013 issue
Content