AT&T Radiotelephone Service Helps You Keep In Touch On The High Seas
By Pete Scott, Product Manager AT&T High Seas Service
AT&T High Seas Radiotelephone Service is a two-way operator- handled service that provides voice communications between ships on the high seas (or aircraft) and land telephones or other mobile single-sideband radio stations. The communications link between ship and shore is via high-frequency (HF) single-sideband radio with coast station equipment provided and operated by AT&T, and ship equipment provided and operated by the customer or agent.
Traffic volume has been growing over the past few years, and it appears that the growth will continue, fueled by the tremendous increase in the cruise ship industry.
AT&T Radiotelephone Service provides passengers on cruise ships (and other ships and aircraft with SSB radio), via the ship's radio room, a way to keep in touch with friends, relatives and associates ashore.
Depending on location, season, and time of day, a ship's radio officer will choose from a number of assigned single-sideband frequencies and announce the call sign of the ship and the AT&T receiving station he is attempting to reach.
The signal will bounce between the earth and the ionosphere—an electrically charged atmospheric layer that surrounds the planet at varying distances from 30 to 300 miles—until it is snared in a web of high-frequency antennas at the receiving site.
Hearing the call through one of several speakers mounted on a console, a communications technician types the vessel's call sign into a computer terminal, which immediately displays the name of the vessel, the frequency on which the call was placed, and the antenna on which it was received.
The technician then establishes contact with the ship and asks where it is located.
At Manahawkin (WOO), New Jersey, and Point Reyes (KMI), California (two of three coast stations used), the technician then pushes that geographic point on a computerized, touch-sensitive map, and a transmitting antenna designated for that region of the world is automatically selected, thus establishing the best possible communications link.
The third station, at Fort Lauderdale (WOM), Florida, uses a different system but contact is also established automatically.
The technician then routes the call to the International Operating Center in Pittsburgh, where an operator makes a connection to the desired domestic or international number.
To place a call in the opposite direction, a caller dials a toll-free AT&T 800 Service number (1 800 SEACALL) and requests, through an operator in Pittsburgh, to place a call to a particular ship.
Every half hour, each high seas station broadcasts a "traffic list" of ships for which calls have been designated.
The ships then call in and a connection is made between the party that placed the call, and the person on board. Calls are handled as efficiently as possible.
With a ship-to-shore call, a passenger may: pay for the call on board the ship; place the call collect; charge the call to a third number (i.e.—residence, business, etc.) provided someone answers for verification billing; or preregister prior to sailing for billing to your home, business or AT&T Card by dialing 1 800 SEACALL (723-2255).
Cruise passengers are encouraged to utilize preregistration without cost or obligation. It is for their convenience.
Currently 80 cruise ships are using AT&T's Radiotelephone Service.
And thousands of commercial and private boats are registered for the service.
The service is generally used when a ship is more than 50 miles offshore, where other forms of short-range radio transmission begin to fail.
AT&T provides free weather broadcasts through the service and gives special priority to calls from ships in distress, making fast connections to rescue authorities and holding the line until all is safe. The cost of the service is $14.93 for the first three minutes (three-minute minimum) and $4.98 for each additional minute or fraction thereof.
The charge for a High Seas call is the same whether the call is placed to a specified person, a specified telephone number, or a specified ship or aircraft radio call sign. Collect, AT&T card and third-number billed calls are permitted between ships or aircraft served through High Seas Service stations, and stations located in the following countries or areas: Bahamas, Canada, Dominican Republic, Jamaica, the United States, Puerto Rico, and the U.S. Virgin Islands.
For free literature about AT&T's High Seas Radiotelephone Service, call 1 800-874-4000, ext. 376.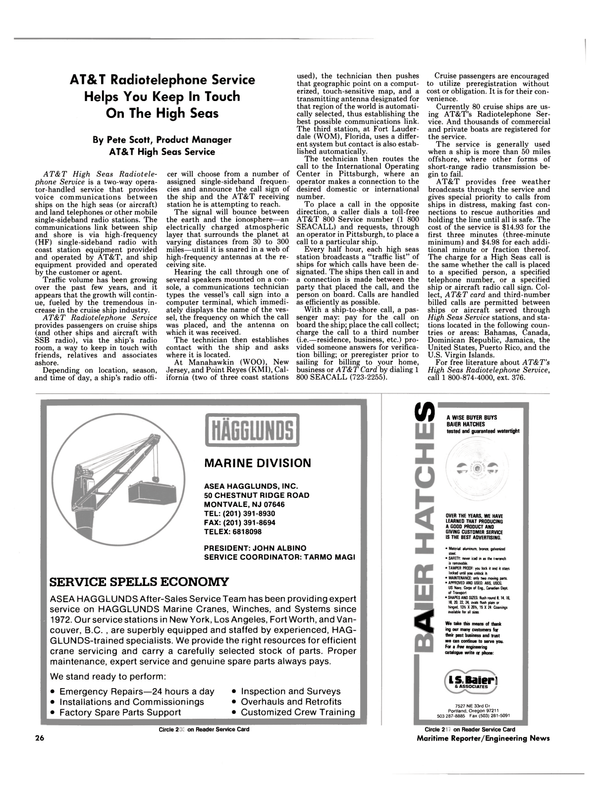 Read AT&T Radiotelephone Service Helps You Keep In Touch On The High Seas in Pdf, Flash or Html5 edition of October 1989 Maritime Reporter
Other stories from October 1989 issue
Content